Skip to Content
Same Day Dental Restoration
Natural Looking Porcelain Restoration in Bellevue
Let the experienced team at Lifetime Smiles in Bellevue help you restore your smile with our natural looking porcelain dental crowns. There are a number of different situations where dental crowns may be needed. Sometimes teeth undergo significant damage due to cavities, heavy bite forces, trauma, or even normal functioning. If a root canal is needed to salvage a severely compromised nerve, the tooth may be especially fragile. Many situations can leave teeth in danger of loss if treatment is bypassed. Dental crowns, or caps, allow these teeth to be rebuilt and covered.
Not only are most "capped" teeth indistinguishable from natural teeth, but they're also extremely secure and comfortable. Crowns can be crafted to repair a single tooth, to repair multiple teeth (including the entire mouth), or in conjunction with dental implants to fill a space. In fact, when missing teeth enter the equation, special consideration might be given to placing a dental bridge or implants. We can help you decide which route may be best for your individual situation. Since no two people are alike, we know that customizing treatment for dental care is key in terms of serving the patient well.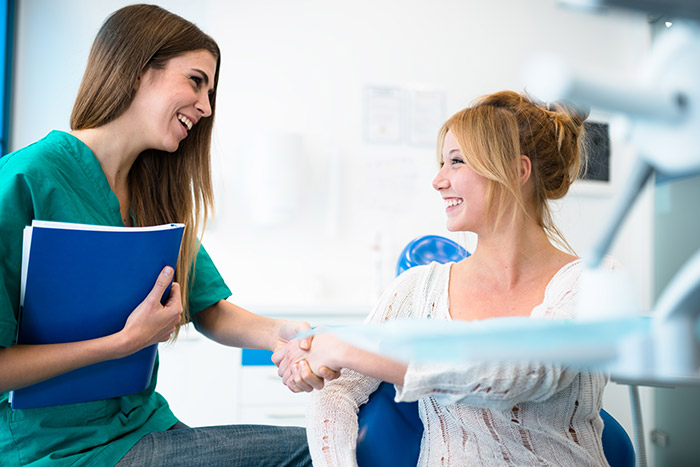 Same-Day Solutions
We understand that getting a crown may seem like an involved experience, but at Lifetime Smiles, we offer same-day solutions for patients who are in need of this type of dental repair. We use porcelain same-day E4D crowns, which allow us to provide fast, high-quality repairs using the latest CAD/CAM technology. In the past, crowns were at least a two-step, two-visit process, as the crown had to be made at a separate facility. The E4D crown system lets us make you a custom-fit crown right here at the office.
The E4D process is actually quite simple. Detailed digital images captured by a computer give us the data we need to design your new restoration. Powerful software coupled with our training leads to a crown created from the finest porcelain available, within a few minutes. We bond your new crown firmly into place, and you'll be on your way! We look forward to introducing you to the difference advanced dental techniques make to your experience, and we're happy to answer any questions you may have about the process.
Experienced E4D Dentistry
Modern dentistry offers more options than ever to help you restore and maintain an optimal level of health. While the strength and beauty of materials continue to advance, the skill of the practitioner makes a significant difference in every outcome. Dr. Beke focuses on utilizing the best techniques for comprehensive care, returning even the most damaged mouths to full health.
When you come to our office in Bellevue for an E4D crown, you can be sure you are receiving care from a qualified, compassionate dentistry professional. All the staff who work on E4D crowns receive ongoing education, and we do a lot of these crowns in-house, so we are very experienced.
A Healthy, Beautiful Smile Awaits – Begin Your Journey with Us Today!